Underpinning is the repair process used to remedy the damage caused to a property's structure and/or foundation. It is required when subsidence, the sinking or downward settling of a build's foundation, has occurred. Underpinning is a widely used repair method within the structural repairs industry and a process which we are frequently required to conduct. We are also frequently contacted in regards to the cost of underpinning. The short answer to this question is that it greatly depends on what type of underpinning is required. The long and more enlightening answer, however, can be found below!
Traditional mass concrete underpinning
Underpinning, a repair method we offer here at Structural Repairs, is the most common form of underpinning within the industry. It is a simple technique which is conducted by having segments of ground located below a property's foundation excavated in controlled stages. The excavation is conducted to suitable depths where appropriate bearing strata exists.
Once the excavation of a segment has been completed, the void is then filled with concrete. This concrete is then left to cure and once it has, a further segment is then begun to be excavated and filled with concrete. As a means to transfer the load of the building via a safe process and to the newly laid concrete, a dry sand cement packing mortar is utilised in between the new and the old foundation.
This traditional and widely used underpinning method is most appropriate on jobs which require shallow depth underpinning only. It is furthermore a useful method when underpinning is required on projects with restricted and challenging access. Moreover, this underpinning method is likewise available for heavy foundation loads and structures significantly large in size, as well as, for the creation of new basements lying beneath already existing property.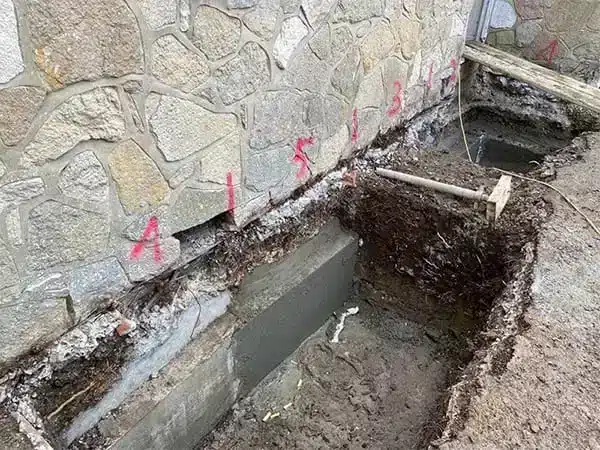 Given that traditional mass concrete underpinning is a significantly more intrusive and disruptive for a customer when compared to screw piling, it can actually be significantly cheaper in costs. This does vary according to certain factors, however, such as ground conditions, access, and suitability. In all, thought, this form of underpinning varies under a range of £700-1250 per linear meter. For further information regarding whether you need underpinning or the cost of traditional mass concrete underpinning on your property specifically, please feel free to get in contact with our industry specialists who are able to provide you with a free consultation and quotation today!
Screw Pilng, a repair method which we also offer here at Structural Repairs, is a construction method used to build deep foundations through the use of ground anchoring. This form of ground anchoring is conducted by steel screw-in piling. The piling is done via the utilisation of screw piles which are circular and hollow steel screw tubes. In addition, they have helices on their outer surface which allows them to penetrate through soil.
Screw piling is an extremely effective repair method and the screw piles are designed so that the helices they hold suit the desired ground conditions specifically. Moreover, they are able to be employed on a wide range of differing types of ground and soil. Once it has reached the desired ground depth, A screw pile is able to remain permanently fixed in place seeing that it is then filled with concrete. The protruding screw pile is, as a consequence, then able to provide a connection between the building above and the ground it is cemented into. Screw piles are further effective given that they hold a mechanism of dispersing load which gives them an outstanding in-ground performance.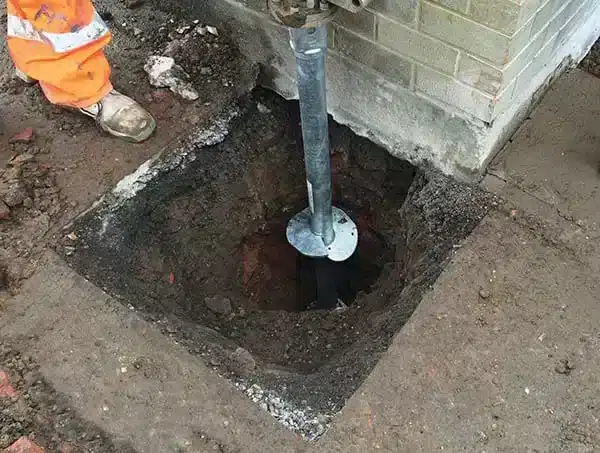 ­­­­When compared to traditional mass concrete underpinning, screw piling is a significantly less intrusive, quicker installation and able to be installed to deeper depths, averaging at a depth of 4-8m. Screw piles are further able to be increased in diameter or doubled up where required to achieve the necessary loadings. In general, screw piles average at a price of £1k per pile, however, prices can vary according to aspects such as site access, ground depth desired, ­­­­diameter of pile, and the such. For further information about whether your foundation would benefit from the application of screw piling or for more accurate pricing of how screw on your property, please feel free to get in contact with our industry experts who are able to provide you with a free consultation and quotation today!
When Is Underpinning Needed?
Overall, and in general, underpinning is a requirement in situations where a building's original foundation is not solid or secure enough to effectively support the build. The need for underpinning usually arises from a range of various different factors. For example, a building's foundation could be made less secure due to natural factors such as environmental changes in the form of floods, droughts, earthquakes, and such, which all cause the structure to move or the foundation's soil to be altered in regards to its properties. In the same vein, it is also likely for underpinning to be needed due to further naturally occurring issues such as the disturbance caused by a nearby tree's growing roots or through subsidence expansion or contraction which is caused by the presence of moisture.
A more complex cause of the need for underpinning is when a soil's properties have not been adequately studied or understood when the building was originally being designed, which in turn renders the foundation inappropriate to hold the structure. Damaged plumbing, when causing a leak in the system which passes into a build's foundation, is a further likely cause of the need for underpinning as any seeping water renders foundations unstable. Other man-made causes of the need for underpinning include scenarios such as major renovations which may end up resulting in a change in the way the structure is now being used.
Any construction near a property may also upset a foundation seeing how the excavation of soil likewise weakens close by grounds. Lastly, when looking to conduct renovations on a property, specifically if those renovation include the addition of one or more floors, then a stronger foundation will naturally be needed which can be attained through underpinning. All of these are very real and common situations which cause a property to become in need of underpinning. It is worth noting, however, that this list is not exhaustive and that a property may require underpinning for reasons beyond the ones mentioned here. For further information regarding your specific situation, please feel free to get in touch which our team who are here to answer and queries you may have!